About Us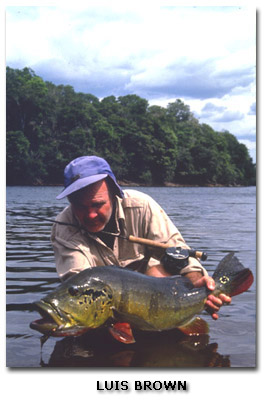 Born and raised in the jungles and lumber camps of South America, Luis Brown was educated in the United States. He was granted a MS from the Wharton School of Finance.
Offering unprecedented levels of services, facilities and comfort, Luis has been a pioneer in world-class Peacock Bass fishing since 1992.
He knows the standards American anglers have come to expect, and he has the experience, the local connections and the backcountry savvy to provide an unparalleled fishing adventure.
Our Ecologically Responsible Approach
River Plate is the only outfitter in Brazil that has legally obtained fishing permits for Indian reserves by negotiating in good faith with Brazilian governmental authorities
These permits restrict potentially damaging commercial fishing, greatly benefitting the Indian tribes by preserving land, water courses and wildlife in these delicate ecosystems.
We conduct our trips according to the "zero footprint" principle. Guests spend very little time in the actual rainforests; instead, they're either in the fishing boats or eating and resting in our floating cabins. Many of our products are biodegradable, and we carefully remove all garbage. Our goal is to leave no sign of our presence.
Fish Tagging Project
In 2001, River Plate began to sponsor the first long term official tagging project with the Amazon Research Institute, in order to determine the impact of "catch and release" fishing on the Peacock Bass population and other species.
Preserving the Rainforest
Well aware of our conservationist role, River Plate has partnered with the Amazon counties to create 3.5 million acres in preservation parks within the river basins of the Marmelos, Matupiri, Itapera, and Shufari rivers.
Between 1998 and 2003, we distributed the equivalent of 30 tons of food in some of these parks, in return for the curtailment of commercial fishing.
We have also donated a great deal of money to pay for park wardens, and to build and maintain their outposts.
Humanitarian Aid
In 1994, River Plate built a medical care facility for the county of Manicore, and in 1998 we donated 20 acres of urban land to the town of Roranopolis. The land was set aside for public housing projects for homeless jungle migrants.
We will continue to provide food, services and monetary support to jungle communities and individuals who are in any way affected by our angling operations.