Lodge Fly-In Floating Cabins
We literally outdistance the competition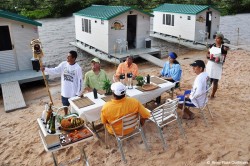 River Plate's six independent Fly-In Floating Cabins (I, II, III, IV, V, VI) are the ultimate solution for optimizing shallow drafting mobility, comfort and luxury.
On arrival from the US, you travel to one of our six Floating Cabins.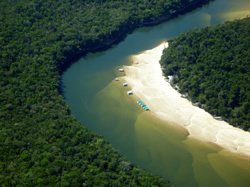 Our Cabins cruise the headwaters of small tributaries with fish-filled secluded lagoons, which are 3 – 9 hours away on fast bass boats, from the melee of competing house boats and lodges on the Negro river deep channel waterways.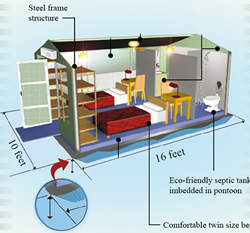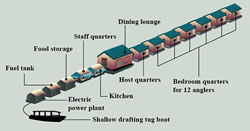 The arrival day float plane flight, plus the daily shallow drafting Cabin cruising, effectively replaces daily 3-5 hours fast bass boat traveling, or expensive daily Fly-Outs, from the main waterways to the secluded lagoons protected by shallow water entry barriers.
Although many well established land based lodges, including our ex-Shufari and Tapera Lodges, are situated past these natural barriers, they have no mobility to seek better water levels. More importantly, those areas become rapidly overfished, 2 to 3 hours upriver or downriver. Our cabins, however, move daily to unfished river segments, spending the night along Caribbean-like beaches.
You will be able to walk in at any time from the nearby secluded prehistoric-looking lagoons into the luxurious comfort of your 12' X 15' elegant and roomy cabin. Cabins have private full bathrooms; and are fully carpeted, tastefully decorated, and every detail has been carefully considered.
In our 12' x 23' dinning/sitting lounge, you will dine on linen table cloths enjoying our chef's four course meals. An excellent variety of both continental and exciting regional dishes, make up the week's menu. Fresh breads and pastries are baked daily and chilled wines, ice-cold beer, soft drinks, and Brazilian-style margaritas flow freely throughout your fishing trip.
Each of our six Floating Cabins operations are managed by a Brazilian "co-owner, who is not only a knowledgeable fisherman, but is also experienced in handling logistics inherent to the Amazon fishing operations. Since our groups are small, the manager, together with a bilingual host and a staff of 14, offer unique, personalized hands-on attention. Breakfast room service, laundry service and guest satellite phone are a few of the available amenities.
What you won't find are many pesky bugs. The pristine rivers we fish have naturally-high tannin levels (from extensive leaf decay) which discourage the development of biting insects. Of the few bugs which might exist, our daily mobility eliminates any possibilities of concentrations.
Anglers fish (2 per boat and one guide) from fully equipped, 21 foot shallow drafting bass boats.
Come challenge the mighty peacock bass and leave the main waterway crowds behind!